Magnehelic Differential Pressure Gauge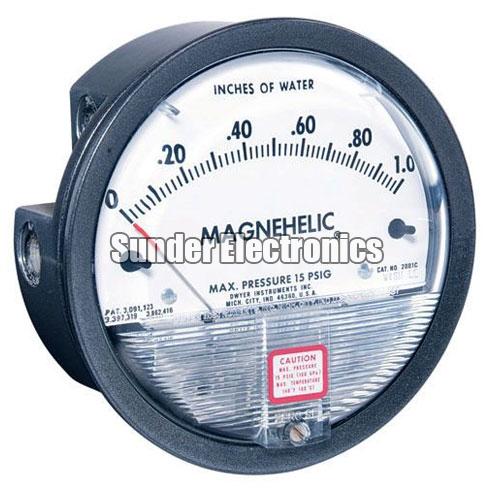 Business Type
Exporter, Supplier, Retailer, Wholesaler
Brand Name
Magnehelic
Material
Alloy Steel, Brass
Shape
Round
Click to view more
Product Details
Certification
ISI Certified
Connection
Bottom Connection
Size
2inch, 4inch, 6inch, 8inch
Diameter
20-40mm, 40-60mm, 60-80mm, 80-100mm
Application
Liquid Pressure, Measuring Gas
Automatic Grade
Automatic
Pressure
0-5000psi, 10000-15000psi, 15000-20000psi
Feature
Accuracy, Easy To Fit, Measure Fast Reading
Details

View
Magnehelic Differential Pressure Gauge that we provide it quickly indicates low air or non-corrosive gas pressures, either positive, negative (vacuum) or differential. The design of our Magnehelic Differential Pressure Gauge resists shock, vibration and over-pressures. No manometer fluid to evaporate, freeze or cause toxic or leveling problems. The Magnehelic Differential Pressure Gauge is used to measure fan and blower pressures, filter resistance, air velocity, furnace draft, pressure drop across orifice plates, liquid levels with bubbler systems and pressures in fluid amplifier or fluidic systems. It also checks gas-air ratio controls & automatic valves, and monitors blood and respiratory pressures in medical care equipment. Magnehelic Differential Pressure Gauge should not be used with hydrogen gas as it can result in hazardous reactions.

Options and Accessories :
Transparent overlays : Furnished in red and green to highlight and emphasize critical pressures.
Adjustable signal flag : Integral with plastic gage cover. Available for most models except those with medium or high pressure construction. It can be ordered with gage or separate.
LED Setpoint Indicator : Bright red LED on right of scale shows when setpoint is reached. Field adjustable from gage face, unit operates on 12-24 VDC. It requires MP or HP style cover and bezel.
Portable units : Combine carrying case with any Magnehelic gage of standard range, except high pressure connection. It includes 9 ft. (2.7 m) of 3.16" I.D. rubber tubing, standhang bracket and terminal tube with holder.
Air filter gage accessory package : Adapts any standard MagnehelicR for use as an air filter gage. It includes aluminum surface mounting bracket with screws, two 5 ft. (1.5 m) lengths of 1.4" aluminum tubing two static pressure tips and two molded plastic vent valves, integral compression fittings on both tips and valves.
Looking for "
Magnehelic Differential Pressure Gauge

" ?